There are plenty of cheap sliders on the market that let you capture time-lapses and other creative shots. For more complex shots, you may want to invest in an app smart motorized slider. Here are 15+ motorized camera sliders you shouldn't miss: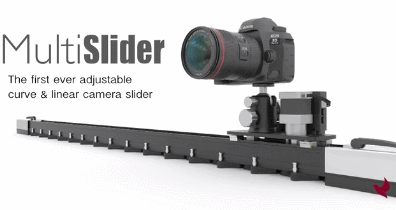 Waterbird Multislider Pro Bendable Slider: a bendable motorized slider with mobile app control. It has a horizontal payload of 8kg. The 49″ version allows you to capture close to full circular shots.
ASXMOV-G6s Multi-Axis Camera Motion Control: ready for timelapse photography, stop motion animation, and advanced movie special effects. Supports high-speed shooting with track movement speed of 1m/s.
PROAIM Curve-N-Line Motorized Slider: a camera motion control system with foldable and removable legs. It lets you capture straight and parabolic video shots.
Cinetics Lynx 3 Axis Motorized Slider: comes with pan and tilt motors and has 5lbs max vertical lift capacity. It has a 2″ per second speed. The battery lasts up to 3 hours. It is ideal for time-lapses, stop-motion animation, and other creative shots.
A&J Motorized Camera: a 48″ motorized camera slider that keeps the target in frame and focus. It can capture 0 to 120-degree spherical shots.
Rhino Motion: enables you to capture time-lapses and beautiful live motion videos. It is compatible with Canon, Nikon, Sony, and Panasonic cameras. It can lift a 5lb camera at 20 degrees. The battery lasts 7 hours.
Kamisafe Motorized Dolly: a mobile tabletop slider compatible with cameras and smartphones. It has 5 levels of straight running speed. Has a max load of 8.8lbs.
iFootage Shark Slider Motion Control Kit: lets you program up to 9 slide movements. It comes with a slide/pan/tilt wireless controller. Has a total length of 47″ and 15lb payload.
Syrp Genie 3-axis Motion Kit: another app control motion slider for your camera with simultaneous tracking, panning, and tilting. Compatible with iOS and Android devices.
Mcoplus Electric Camera Dolly: lets you capture better macro and low angle videos and short time-lapses. It comes with 1/4″ and 3/8″ screw.
ASHANKS G1 Motorized Timelapse Slider: a 29′ slider with electric control. It has max capacity of 6kg (vertical). You can adjust speed, interval, and other settings for complex shots.
SliderOne Pro: a versatile, portable camera motion control system with iOS and Android support. It offers 7.9 inch of camera motion. With FlexTilt Head 2, you can do even more with it.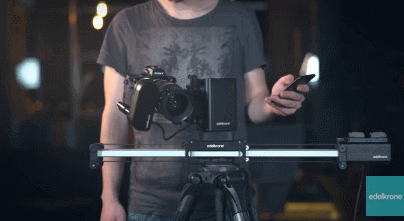 SliderPlus & Motion Kit: a 4-axis motion control system for your camera with iOS and Android. With head, focus, and slide modules, you can capture time-lapses with intelligent targeting.
SurfaceOne: a pretty unique robot that serves as a 2-axis motion controller for your camera. You can control slide mode from your smartphone app. The device is ready for targeted, linear, and panning time-lapses.
PROAIM Curve Circular Slider: a heavy duty camera slider for circular shots. It has an aluminum construction and weight capacity of 10kg.
ROV Camera Slider: use your smartphone to capture shots? This fully motorized slider has you covered. It has a battery that lasts up to 24 hours. You can also use it to capture time-lapses at night.
Have you found cooler motorized sliders for cameras and smartphones? Please share them here.