Here is another pet feeder that lets you take better care of your pet. The FunPaw Playbot Q Robot is a treat dispenser, pet camera, and laser toy. It has a mobile base, so it can keep your cat or dog active. It connects to your iOS or Android device via Bluetooth or WiFi.
You may also want to see ➡️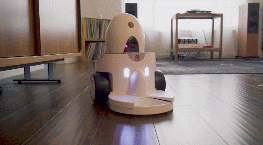 The device can hold 25 oz of dry pet food. It moves on 3 wheels and launches treats. Costs under $200 at this time.