The HTC Vive is a wonderful platform for VR gaming. It comes with everything you need to get an immersive gaming experience. If you are a fan of shooting games, you should give these VR gun controllers a look:
More gadgets like this 👉👉
here
PP Gun: a Bluetooth gun for VR with vibration feedback. It is compatible with your smartphone and also tracker. The gun comes with 10 function keys.
HTC Vive Dual Controller Rifle: a 3D printed adjustable rifle for your HTC Vive.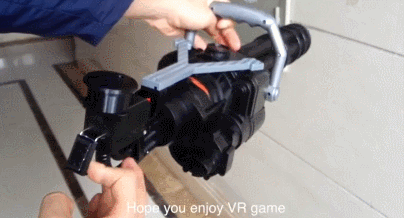 MAG P90 Gatling VR Gun: combines with your Vive tracker to enhance your gaming experience. It is ideal for games like Serious Sam VR The Last Hope and GatlingVR.
RPG VR: an RPG weapon for your VR games. Works for RPG Training Camp, Rush to the Dawn I: Mission, and other compatible weapons.
Delta Six Gaming Controller: has a realistic look and feel. Comes with auto-zoom functionality for sniper shots. It has an aluminum Picatinny railing  system and powerful recoil.
Have you found better VR gun controllers? Please share them here.